How to Install Window Flower Boxes
If you've been following along on Insta stories, you already know Emmett and I finally decided to tackle a major eyesore at the front of our home. I'm ashamed to admit, we lived with the ugly curb appeal for almost two years before addressing it (sorry neighbors!). After finishing the quick project, we both wondered why it took us so long! It's much more pleasant pulling into our driveway to this view. I received a ton of questions about our window boxes, and they're my favorite part of the equation! Click through for a very detailed DIY on how to install your own window flower boxes, and take a peek at how our project unfolded. The before & after images are also pretty good…
I snapped this photo the day we purchased the house. It was in really rough shape. Obviously since then, we've replaced the large window, front door, outdoor sconce, house numbers, mailbox, and a slew of other things. The one thing we neglected was the raised bed and landscaping. We turned our energy to the interior of the home and kept pushing that project to the end of the priority list.
I'm proud to share in partnership with Lowes, it was the landscaping that made all the difference! I seriously can't believe we waited two years to tackle this easy project. Check out how much better things are looking these days…
Window boxes are a game changer when it comes to curb appeal. They're so charming and add a ton of texture and dimensions to your landscaping. I've always loved them. If we can install them with ease, then you can too! Despite having a brick home and an uneven window ledge, they went up really easily. If you have more favorable circumstances, the process will go even faster. Here's what you need to get started: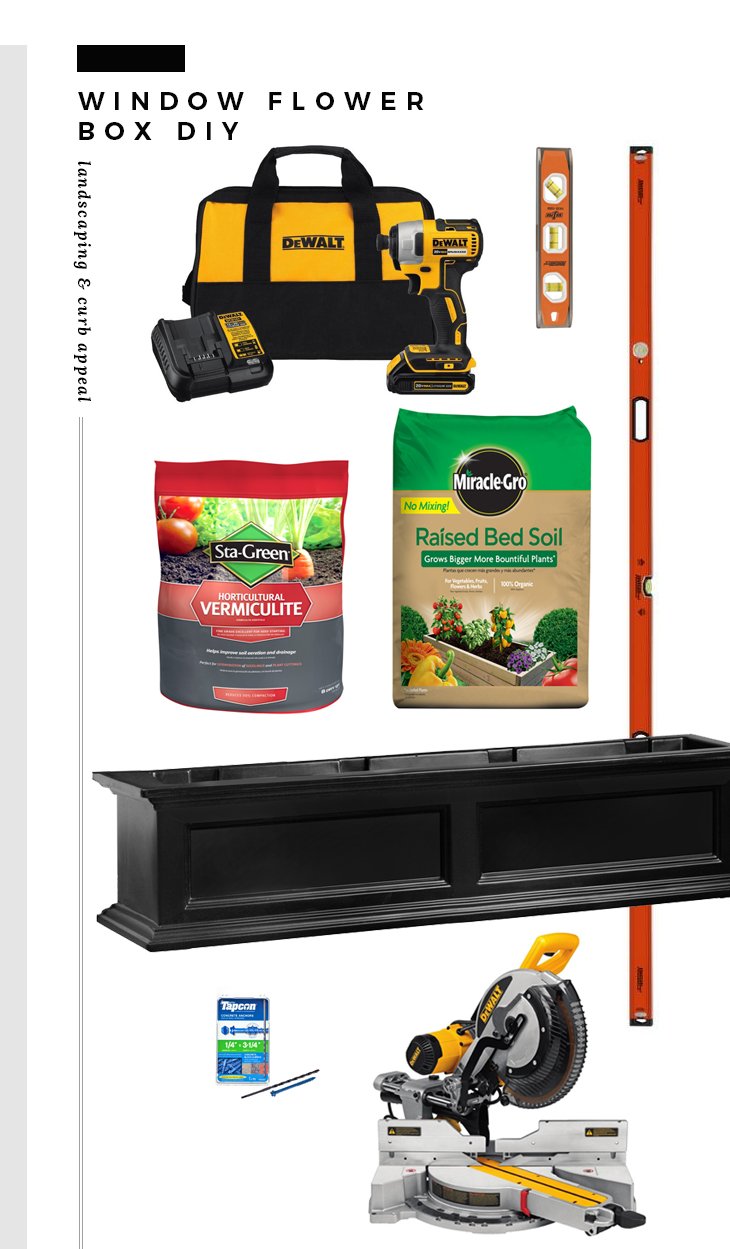 supplies + tools : Dewalt impact driver // Johnson 9 inch level // Johnson box beam level // Miracle-Gro raised bed soil // vermiculite // Mayne self watering window box // Tapcon masonry screws // Dewalt miter saw
Step 1 // Build out lower support, if necessary. Our situation is unique because our brick exterior has protruding window ledges. I wanted the boxes to sit closer to the window, meaning we needed to build out the bottom for a flush and level installation. If your home doesn't have window ledges, it only makes your process easier! You'll only need to use one board, rather than building it up.
Step 2 // Cut blocking to length with a saw. Measure the distance between the end brackets- feel free to add an inch or two extra, just to be safe… as long as it's hidden behind the window box, it will make for easier alignment.
The below photo shows the outcome after the board was cut to size. Notice it's a bit longer than the bracket width.
Step 3 // Confirm the build-out is the correct depth and level with the ledge. If your window ledge is wider like ours, you'll need to rip a 2×4 to build out the bottom support so it's flush with the ledge (that's what we measured for in Step 1). This will ensure the window box hangs level and straight. Again- if you don't have a window ledge, this step isn't necessary.
Step 4 // Measure the bracket & mark your placement. First, measure the distance between the top of the bracket and the bottom screw hole. Measure that same distance down from where you want the top of the flower box on the house. This is where the center of your build-out will mount to the exterior.
Step 5 // Drill the first hole. Align your 2×4 with the mark you just made. If you have a brick exterior, you'll need to use a hammer drill with a masonry bit to drill your holes. Drill through the wood, just enough to score the brick.
To make it easier, once the brick has been scored, remove the board and finish drilling your first hole.
Step 6 // Attach the build out. Grab a Tapcon masonry screw, place your board back in place, and attach it to the house.
Step 7 // Drill the remaining holes. Go to the other end of the build out, level it, and drill the remaining holes. We drilled six holes and used masonry screws to support the build out.
Step 8 // Position your brackets. We wanted our Mayne self-watering window boxes set in 6″ from each side of the window. Knowing that, we measured for our brackets to accommodate that dimension.
Step 9 // Square up your bracket. Once you have marked where the bracket goes, make sure it's nice and square with the 9″ level.
Step 10 // Install the bracket. Use a wood screw to secure the bottom bracket hole.
Once the bottom is in place, move to the top. We used a masonry bit and impact driver to drill a pilot hole into the brick, then secure it with a masonry screw.
Step 11 // Install remaining brackets. Once the first bracket is installed, move along to the remaining three. It should look something like this…
Step 12 // Hang the window box. Once all of the brackets are in place, you can hang the Mayne window box! It easily tilts onto the brackets and can be removed as needed for planting. We checked once more to make sure everything was level.
Step 13 // Mix the soil. I mixed vermiculite and raised bed soil 50 / 50 for the flower boxes. The vermiculite helps with moisture, nutrients, and also lightens the weight of the box to prevent warping.
Step 14 // Use packing peanuts. Prior to putting the soil into the window box, fill the bottom 2-3″ with packing peanuts. This will also help to lighten the load. Be sure your peanuts are NOT biodegradable. They'll also help with drainage and watering.
Step 15 // Add the soil. Once the peanuts are in place, add the soil mixture.
Step 16 // Start planting! Now for the fun part- began filling your window boxes with plants and flowers.
I'm really pleased with the way this project turned out! It makes our big window look less clunky and adds some charm to our front exterior.
If you're wondering what flowers I filled my boxes with, I mixed: Snow In Summer, Calibrachoa, Supertunia Vista Fuchsia, and Old Gold Juniper… all from Lowe's garden center.
I feel like I should note… it's never too late to make a small change to your home. I'm kicking myself for waiting two(!) years on this one when we could've been enjoying it this entire time. The flower boxes made our average exterior look a whole lot better!
As always, if you have any questions- leave me a comment below! I'd love to hear what you think of the transformation. I know this post was long, but I wanted to get every single step and share detailed instructions. It's a really simple DIY that takes minimal effort- it was also really fun to complete! I'm planning to soak in every last bit of summer, including those pretty blooms.
*This post is sponsored by Lowes. All content, ideas, and words are my own. Thank you for supporting the brands that allow us to create unique content while featuring products we actually use & enjoy!