Transitioning the Backyard for Fall
Ever since finishing our backyard, we truly spend SO much time outside. It's been a lot of fun entertaining this summer and we're not ready for it to come to an end as the weather cools off. Utah feels perfectly fall right now and is my ideal temperature, so we're stretching out the use of our patio and pergola until it's absolutely too cold. Click through to see how we transitioned the backyard for fall, tips for transforming your own outdoor space for the season, and to see how we've been entertaining lately! 
For starters, I did a little plant switcharoo. I brought our lemon tree inside for the season and swapped it for a giant planter of mums! Mums are my favorite fall flower… I love how they cluster into perfect spheres, radiate beautiful autumn hues, and add texture to any outdoor area.
In addition to swapping florals, I also brought out some cozy textiles. There's nothing better than snuggling under a blanket or throw on a cool fall evening as the sun sets or getting comfortable under a dark starry sky.
The pillows are pretty neutral and seasonally appropriate year round- so I actually left those. It's crazy how they adapt to the color palette around them.
I leave a basket of pillows and throws outside during the cooler season. All of our outdoor furniture and accessories have weatherproof covers (more on that in another post), and I tuck the basket under the coffee table, which is covered to keep everything safe from the elements when it's not being used.
In addition to blankets and throws, I also layered sheepskins onto the freestanding chairs to make the aesthetic visually warm, inviting, and seasonally appropriate.
You'll also notice our newest patio addition… the outdoor heater. This thing has come in super handy as the temperatures drop.
It has wheels, so we can easily position it wherever people are hanging out. I also like that it has a clean, smokeless burn. It runs on propane, makes no noise, and heats a really large area. I think this is Emmett's favorite thing in the backyard these days.
Of course I had fun decking the backyard out with fall accessories! It just doesn't feel like September / October without pumpkins.
I love the pale colored modeled looking pumpkins- especially the green and white variations. I styled them on top of the coffee tables alongside my DIY hand poured candles.
I did paint a couple of the pumpkins black- just for a moody pop of color. A filled match strike also comes in handy for the candles. Other than that, I wanted to keep the coffee table styling pretty minimal so it's easy to bring in and out once we're finished using the space.
After transitioning this space for the season, we shared it with friends. Over the weekend people came over and it was a blast! Despite the chilly temps, everyone was warm, cozy, and full of conversation. Here's my list of backyard essentials this season:
Outdoor Fall Entertaining / Decorating Essentials:
Pumpkins
Mums
Candles
Blankets
Throws
Pillows
Outdoor Heater or Fire Pit
String Lights
Easy Food
And here's how to get the look: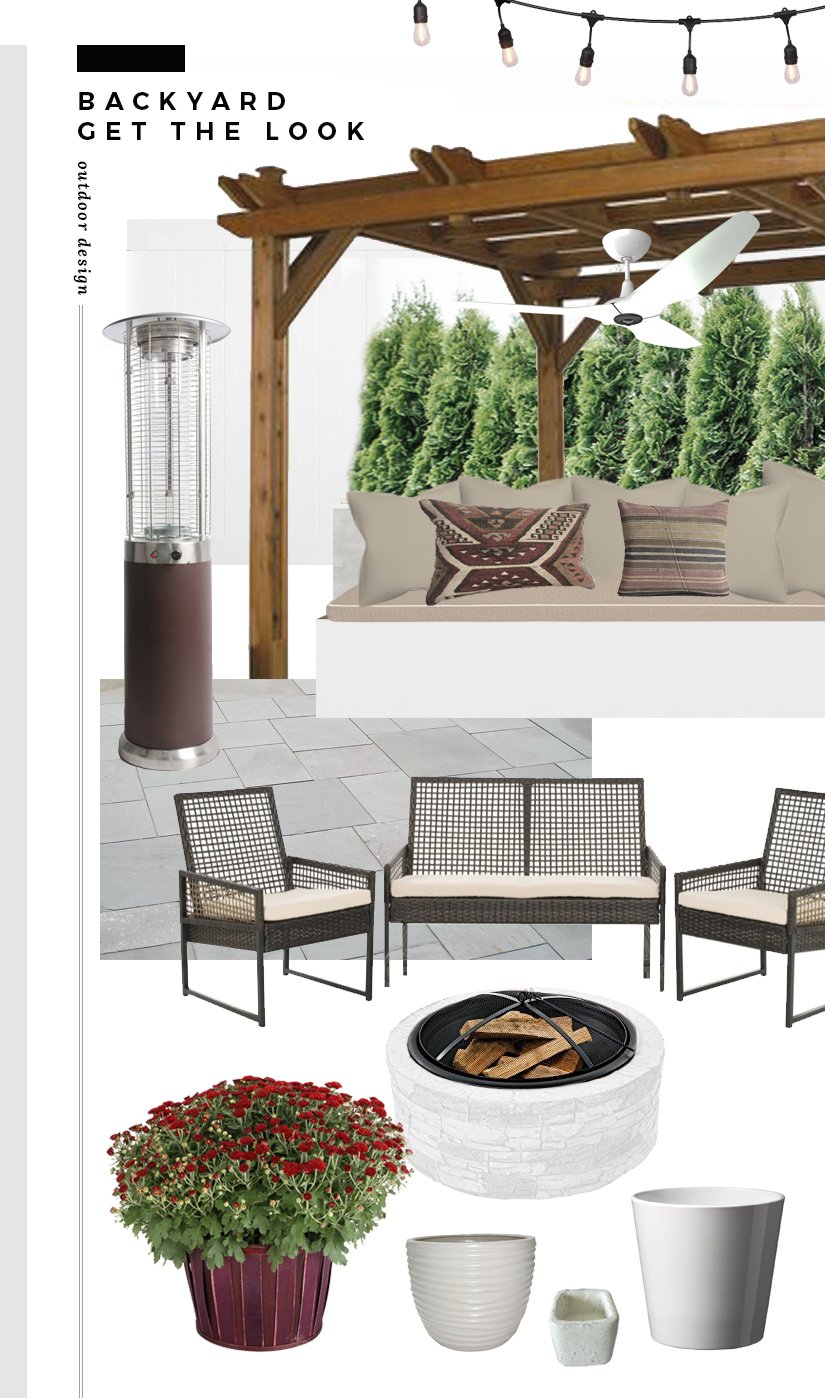 In regards to food, I'll be sharing the delicious mini caramel apple pie recipe on the blog later this week, as well as the pumpkin bruschetta. Both were a hit with our guests!
Charcuterie boards are another easy item for hosting fall gatherings. You can see my tutorial for assembling one here. By the end of the night, the food was completely gone… which I always think is a good sign!
Honestly, the thing I like most about our finished backyard is the memories we create there. This fall, I hope to do more entertaining outside because I enjoy it so much.
Sometimes Emmett and I even go outside, have a fire, and enjoy it on our own. It really is an extension of our home and a true outdoor living space. I hope everyone had a great weekend and also made lots of memories to cherish!
For more on our backyard:
*This post is brought to you in collaboration with Lowes. All content, ideas, and words are my own. Thank you for supporting the sponsors that allow us to create unique content while featuring products we truly use and enjoy!
SaveSave