Backyard Landscaping Design
I'm not going to lie- I'm not the strongest when it comes to landscaping design. Luckily, Emmett is really spectacular in this area and he takes care of most of the landscaping for us. Lots of readers have asked about the types of plants we used and why we selected certain items for our backyard. I thought it would be helpful to breakdown our thought process and link everything! Click through to see how we landed on our backyard landscaping design and future plans we have in store…
I prefer lots of greenery and structured plants… think boxwoods, hedges, topiaries, and screening plants with a very english feel. I think they feel safe to me because they're neutral and textural (two things I really crave). If I'm going to have anything floral, I don't like it to be overwhelmingly bright. I'm not into red, bright pink, or orange roses / hibiscus, for instance. If we lived in a different climate, then maybe- but it just doesn't feel right with our yard and home. I do love florals, but in a neutral palette: whites, blush pink, pale yellow, etc. Knowing what I prefer will help you understand why and how we landed on the following plants.
I asked Emmett to crawl onto the roof to get a couple aerial shots to make it easier to see the overall plan. Obviously we still need to find some boulders to edge the pine tree, but you get the idea.
From the very beginning, we had a few landscaping problems to solve:
We have little to no shade.
Our yard isn't the most private and we can see our neighbor's homes (not all of which are in amazing condition).
We have two different colored privacy fences (ours is white… the neighbors have ivory).
We have two male dogs (they like to pee… a lot).
We live in Utah (crazy change of seasons- from super hot with little rain to LOTS of snow).
We'd like to add-on eventually.
I'll talk you through how we solved each problem below!
S H A D E
This is a problem we have yet to solve with landscaping. We added the pergola and sun screening fabric which provides filtered shade under the structure, but that's only a 10′ x 10′ space. We also have one existing pine tree that pretty much offers zero shade. We hope to solve the problem later this summer into early fall when trees go on sale. The plan is to plant a couple shades trees in our yard, but we're sort of hesitant because of our future add-on. We'd love to save enough money to add a garage and build a master suite above the space. That plan means losing a good portion of the left side of our yard. The spot where we'd ideally plant shade trees. We're still deciding if we should wait. I would hate to spend lots of money on mature trees only to have to demo or relocate them if we add on… decisions, decisions. TBD!!
Also down the road, most likely next summer, we'd love to add raised flower beds along the back fence. We just didn't have another big yard project in us this summer.
P R I V A C Y
Privacy is obviously desired when it comes to a backyard. I'd prefer the neighbors not be able to peek in and vice versa. Some of our neighbor's homes need a little TLC, so screening hedges will eventually provide us with a better, secluded view.
These emerald arborvitae trees grow to be about 12-15 ft. tall and will grow together to create a barrier. They're fast growing, drought resistant, and super tolerant to the cold. In a couple years time, we won't even be able to see our neighbor's house. I'd also prefer to see greenery instead of the white vinyl fence, so these plants were a big win. We splurged on larger sizes to speed up the privacy process, but these come in tons of sizes of varying costs. Obviously the larger the tree, the higher the price…. the smaller, the lower the price.
F E N C E   T R A N S I T I O N
If you've been following along on stories, you're already familiar with our weird fence transition. We opted to tie one section of our fence into our neighbors existing fence to save on costs. It sounds great in theory… but the fences don't match. They're different in style and color. Our solution? Giant bushes that will disguise the transition. Right now they look like this:
But eventually, they'll turn into this:
These viburnum snowball bushes will reach 10 – 12 foot in height and diameter and they're super fast growing. They grow really thick and bloom beautiful white 'snowball' looking flowers every spring. They sort of remind me of hydrangeas. Both of my grandparents had these trees on their properties when I was young. When I spotted these at Lowes, I scooped them up. I think they'll be the perfect plant to disguise the fence, but I also love that there's a sentimental and nostalgic quality associated with them.
D O G  –  F R I E N D L Y
Yes… we have two male dogs. You know what that means. It's a constant challenge of who can pee the most. Finn will pee, Cash will then pee on top of Finn's pee, and vicious cycle reports and continues. They will literally play this 'game' until they can pee no more. All of that urine takes a toll on our landscaping. It's a real issue. The solution? They're currently in training to eliminate in designated spaces, but until they've got it down, we thought it would be safe to accompany them to the yard. We also selected plants that are more tolerant to pets.
Aside from the landscaping, until the sod was rooted, the dogs weren't even allowed on the lawn in the backyard. As gross as it sounds, we also pickup all the poo immediately these days. We used to do this terrible chore a few times a week, but now that we take advantage of spending time in the backyard more often, it's just easier to address the situation immediately after it happens.
C L I M A T E
Living Utah is amazing and beautiful, but it can be challenging when it comes to landscaping. Plants must withstand hot temperatures with little to no rain, and cold winters with insane amounts of snow. The seasons are polar opposite! We looked for plants that like full sun and had a cold tolerance of at least -20 degrees Fahrenheit. Lucky for me, a lot of the plants that fall into this category are textural, green, and pretty structural in appearance (my jam!).
I also wanted some arrangements that felt more appropriate for the Utah summer. I put together a few succulent planters using a variety of cacti. They really counter balance all of the greenery and shrubs. I'll either have to replant them next year, or bring them in to survive the winter. That's something I knew in advance but wanted anyway.
The same goes for the lemon tree. I bought a dwarf meyer lemon tree because I've always wanted one. It won't withstand the Utah winter outside, but it'll look nice in my office until I'm able to set it outside next spring. It's all about balance!
You can shop our plant selections by hovering over and clicking the collage below.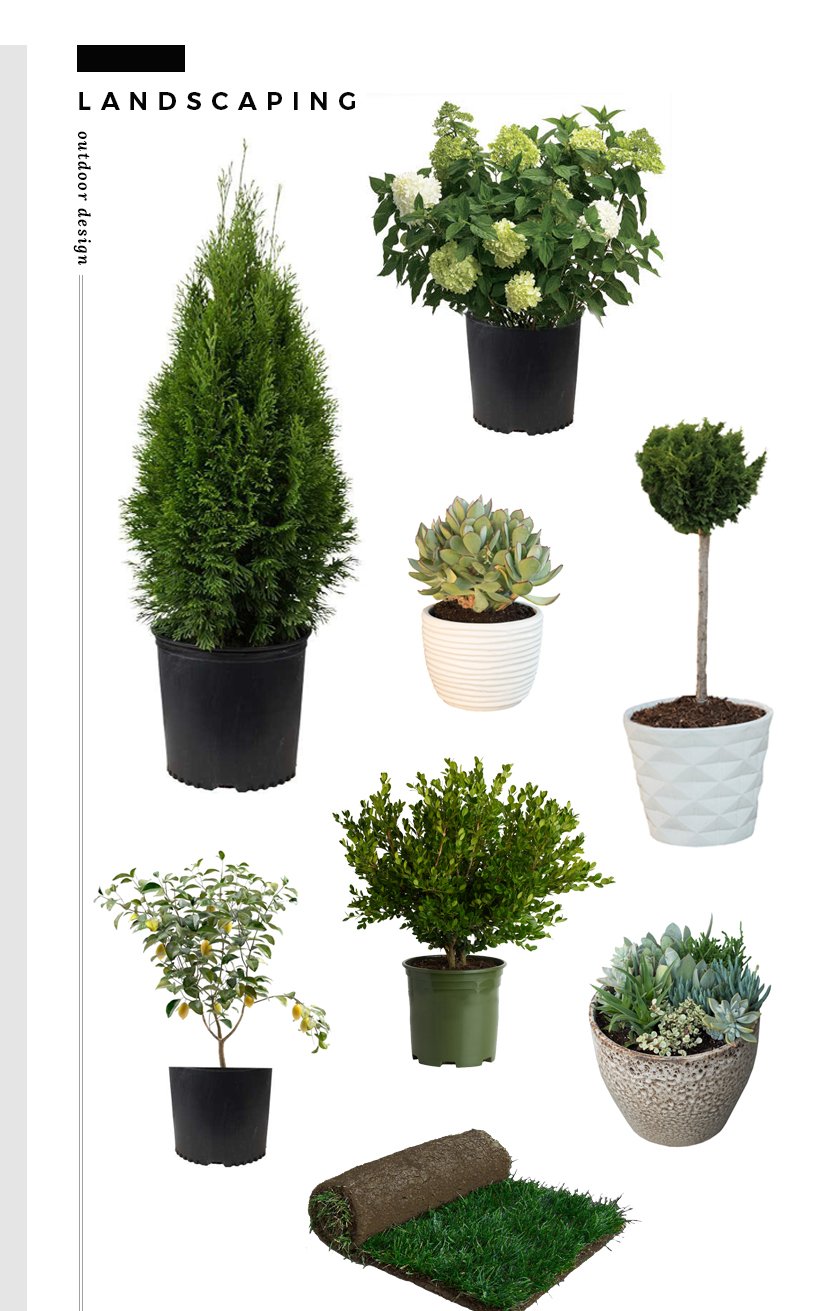 Texture and shapes goes a long way. Even though we only have a handful of species, planting in repetition really worked well in our yard this time around.
If you're interested in more landscaping posts or tips for landscaping design, Emmett posted this awhile back (his blog debut with very strong outdoor opinions, ha!). I also shared five tips for styling a porch, and you can catch a view of the landscaping at our old home. Does anyone have additional landscaping suggestions or ideas? I'd love to hear them!
*This post is brought to you in collaboration with Lowes. All content, ideas, and words are my own. Thank you for supporting the sponsors that allow us to create unique content while featuring products we truly use and enjoy!
SaveSave