I'll start by saying this backyard project has been a work in progress and a long time coming! As you probably know, we've been busting it in the backyard for just over a month. I'm excited to finally share the fruits of our labor, the successes, and even the failures along the way. Click through for the entire backyard reveal (plus a 'Get the Look')! This week I'll share a different yard related project every day, so keep checking back… especially if you're interested in any of the DIY tutorials. 
Believe it or not, we started planning this project in April. If you missed the plans or the terrible before photos, check out that post here. I'm not going to lie… it's been a long two months of doing nothing but yard work. It's been challenging, laborious, and has tested our strength- both physically and mentally. We've mixed over 10,000 pounds of concrete and have put in over 300+ hours to get our yard to this point. Initially when planning the project, we had decided to hire out the work. We still have so much to do inside the house, it seemed like paying someone else to help with the yard was our best bet. After four meetings with different contractors, we then decided to tackle the yard ourselves. Why? Mostly because of the lead-time and budget (the highest quote was $35,000!)… and one contractor told me my design plan was stupid and he'd have to 'check with my husband'. Ha! I sent that one packing pretty quickly. Long story short- this project was all us. In the end, I'm happy we took that route and am so proud of the space we've created. Let's dive right in, shall we?
We started the project with a TON of demo and installed a new privacy fence (click for that post and tutorial). I knew I wanted a pergola or some sort of shade, but it was actually Emmett's idea to place it in the far corner of our yard. After the pergola was up, we added a paver patio and custom seating. Next came landscaping and sod, and now the space looks like this!
We now have a place for grilling, entertaining, lounging, and even a spot for a cozy fire.
My favorite part? Definitely the seating. It's one thing to have a place to sit and hang outside, it's a totally different ballgame to be comfortable. We weren't really planning our 'first official barbecue' quite yet, but friends showed up and we made it happen! We sat outside for hours and everyone complimented how surprisingly comfortable the outdoor sofa is. That's a big win in my book.
I made a big batch of margaritas, brought out some cold beer, and Emmett tossed his favorite ribs and vegetables on the grill. While the food was cooking, friends played cornhole and caught up.  We also had house guests visiting from the midwest, so this ended up being perfect timing for a little get together. New friends meeting old friends! It was really the best impromptu barbecue, and it helps to depict how we actually use the space. Everything about this post is realistic and honest…. styled exactly the same as it still is today.
I mentioned shade at the beginning of this post, and a lot of people have asked on Instagram how we shaded the pergola. We have hot and sunny summers here in Utah, so having a place to retreat from direct sun is super important. We bought tan shade fabric and affixed it to the top of the pergola with these clips. Not only does it provide shade, but it's designed to block harmful UV rays, wind, and cools the temperature underneath by 15 degrees. In the winter, we'll remove it, wash it, and reinstall next spring.
In addition to the shade fabric, we installed a Haiku overhead fan. You might be wondering why and how we landed on this. I'm devoting an entire post devoted just to the fan, because yes- we ran electrical to the pergola. To give you brief reasoning… this fan is wet rated (it can get rained on, live in 100% humidity, and take thunderstorms like a champ), low profile, looks amazing, and most importantly- cools the space so quickly. You wouldn't believe the amount of air this baby produces. It really makes you more comfortable sitting outside in the dead of summer, enjoying this space before the sun goes down.
Back to our little barbecue.. I brought out some music, and once the sun set, lit a few citronella candles to keep the bugs away.
This bluetooth speaker is perfect for entertaining in this space. I love the organic aesthetic and my 'tech-iest' friend commented how amazing it sounded. The little handle makes it easy to carry around if you're moving from one spot to another.
Believe it or not, Utah went a few months without rain and the day I put out all the furniture and cushions, it rained four(!) days in a row. I'm talking torrential downpour and thunderstorms. I felt like I couldn't win. I was certain all of that hard work was ruined. Luckily, everything held up perfectly. I'm looking into some furniture covers just to be safe, but everything is outdoor rated, weather and fade resistant.
On the opposing side of the paver patio, we also have freestanding seating around a fire pit. I loved this patio set and it's actually really affordable, as well as comfortable.
As I was shooting photos and the food continued to cook, friends kept socializing and playing yard games. I can't wait to share this cornhole set DIY with you later in the week… I think of it as art for your yard entertainment. I'm not into the ones that look like they came straight from a fraternity. Ha!
As it started to get darker out and the appetizers were disappearing, everyone transitioned onto the patio for dinner. Eventually we'll finish the outdoor dining area, but it won't be connected to the pergola or paver patio. We're thinking a separate courtyard after the add-on, about 20-30 feet away from this vignette. It's close proximity to the kitchen would be more functional. In the meantime, everyone was content just hanging out on the lounge furniture to eat.
Friends brought their dog to play with ours, and they tried their best to behave and not beg. I might've given them a couple samples to snap these photos. Ha!
Remember Roxy from this post, in her beautiful kitchen? I think the four legged family members also approve of the patio, pergola, and backyard makeover.
I probably turned the twinkle lights on a little prematurely, but I'm excited to finally have a spot for them! If that doesn't scream summer night, then I don't know what will. These are also weather rated, industrial, and heavy duty. Living in a place like Utah, it's important to find items that can withstand the harsh weather.
As the evening wound down, I took a couple photos after dark to show you how this space really changes. It surpassed my wildest dreams. Candles and lights glowing, a little fire rolling, drinks in hand, and lots of laughter. That's really the best way to describe this space and the memories we'll make here once the sun goes down.
Emmett snuck this shot of my gal pals and I sharing a laugh. Looking back on these images made all the hard work and sweat for this backyard worth it. To see the people I love enjoying each other's company in a beautiful space made my night… probably my summer. We didn't get to entertain or enjoy our last backyard at the Ohio house. This really makes me glad we tackled the yard sooner rather than later.
The guys caught up around the fire pit under the stars and we called it a night. Our first time entertaining in our backyard was a success and Emmett and I exchanged giant smiles as everyone was leaving. We're so happy with how everything turned out.
If you're wondering about the sources, I'm linking everything below… mostly everything is from Lowes! Hover over the image and click the items to be directed to the link.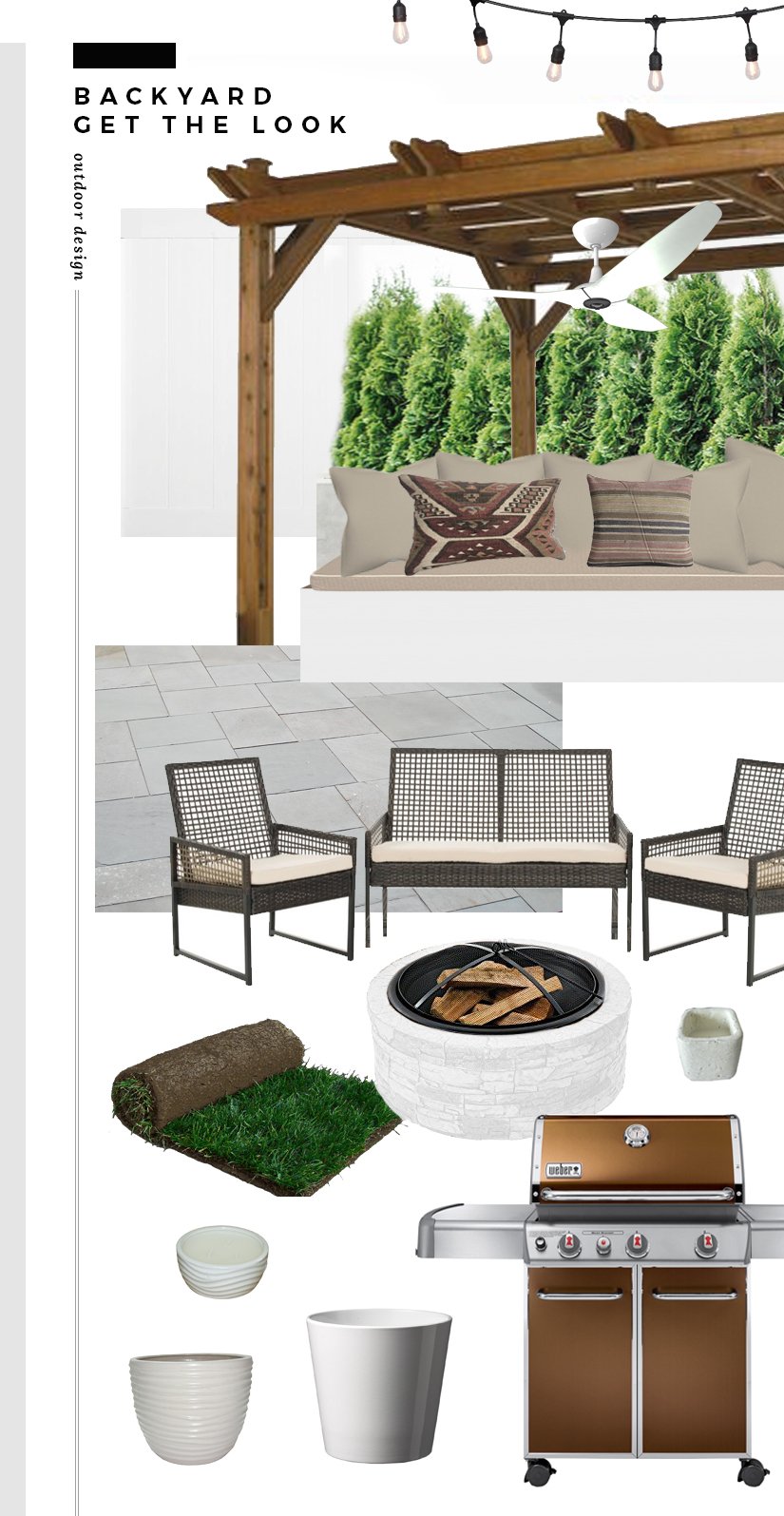 So… here's what you have to look forward to in regards to backyard content! I'll be sharing these throughout the remainder of the week into the following:
Please let me know your thoughts. I'd love to hear feedback! I know a lot of you have been following along on Insta stories and have been so encouraging. I really appreciate all the love, support, suggestions, and compliments!
*This post is brought to you in collaboration with Lowes. All content, ideas, and words are my own. Thank you for supporting the sponsors that allow us to create unique content while featuring products we truly use and enjoy! I also have to thank my friends for being super cool and allowing me to take their photo for the blog.
SaveSave